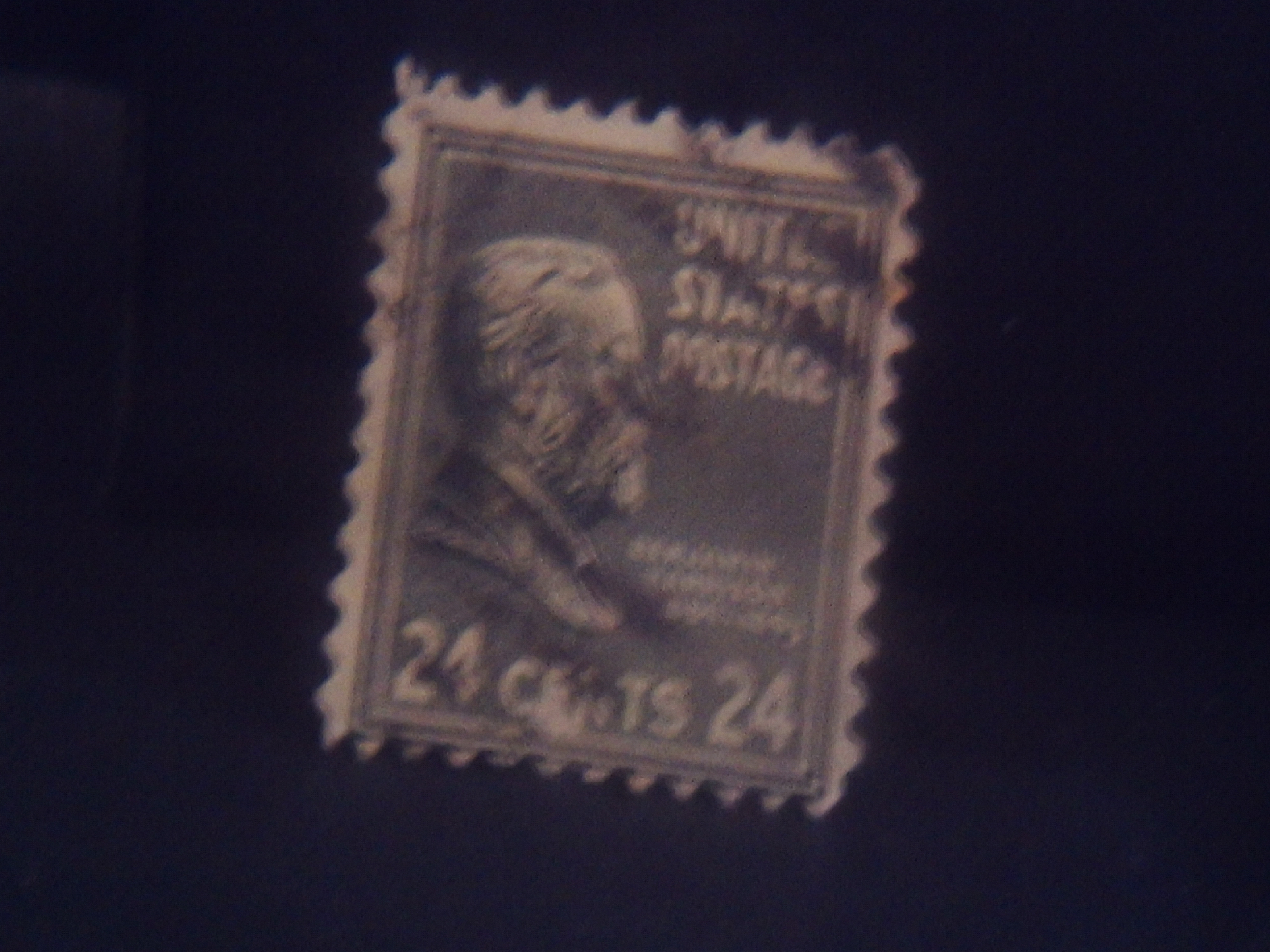 When a lot of money is spent and there is not enough results, a President's term might become limited. So slip on your smoking jacket, fill your pipe, take your first sip of your adult beverage, and sit back in your most comfortable chair. Welcome to a Presidents Day offering from The Philatelist.
Todays stamp was simple and elegant. The issue shows all the previous presidents in the order that they served. All are busts and in profile. Even though the issue excluded presidents still alive, this included some then fairly recent ones of the other party. That these are treated with equal reverence is pleasant.
The stamp today is issue A300, a 24 cent stamp issued by the United States in 1938. The stamp displays a bust of Benjamin Harrison. According to the Scott catalog, the stamp is worth 25 cents used. The stamp to look out for in this issue is a used copy of the red brown version of the $5 Calvin Coolidge stamp. It is worth $7000. The catalog warns that it is possible to chemically alter the less valuable red version of the stamp to make it appear to be the red brown version. The suggest having it authenticated before purchase. Caveat emptor among philatelists… Shocking!
Benjamin Harrison was from Indiana and was by profession a lawyer. His Grandfather, William Henry Harrison was also President. The Family cane trace itself back to the early Jamestown settlement. Harrison was a Republican. At the time Republican political positions were more aligned with modern day Democrats and vice versa. Republicans dominated the Northeast and West and The Democrats dominated the South based on white votes.
Harrison defeated one term Democrat Grover Cleveland. He allowed 6 new western states into the union, the most of any president. Cleveland had delayed them fearing they would vote Republican. Harrison passed an anti trust act and enacted large tariffs on foreign goods. The tariffs threw off a lot of money to the government and government spending exceeded 1 billion dollars for the first time. There was infrastructure spending and an expansion of the navy. It came to be seen as an administration that spent money in a wasteful way. After 1 term Grover Cleveland ran again for his old seat and defeated Harrison. The new states he hoped would vote for him defected to a third party candidate to his left politically.
The second Presidential contest was bad for Harrison in another way. His wife Caroline was fighting tuberculosis and lost the fight two weeks before the election. His married daughter Mary took over first lady duties. A few years later he married Mary Dimmick, a 37 year old niece of his late wife that had served as her secretary. Caroline's children who were in their 40s did not approve the match and boycotted the wedding. He had one daughter with his new wife and died in 1901 of pneumonia. Both wives are buried with him, Mary taking her place in 1946.
Well my drink is empty so I will pour another and toast all the Presidents. There have been 45 now so to do it one by one might leave me rather drunk. Come again tomorrow for another story that can be learned from stamp collecting.