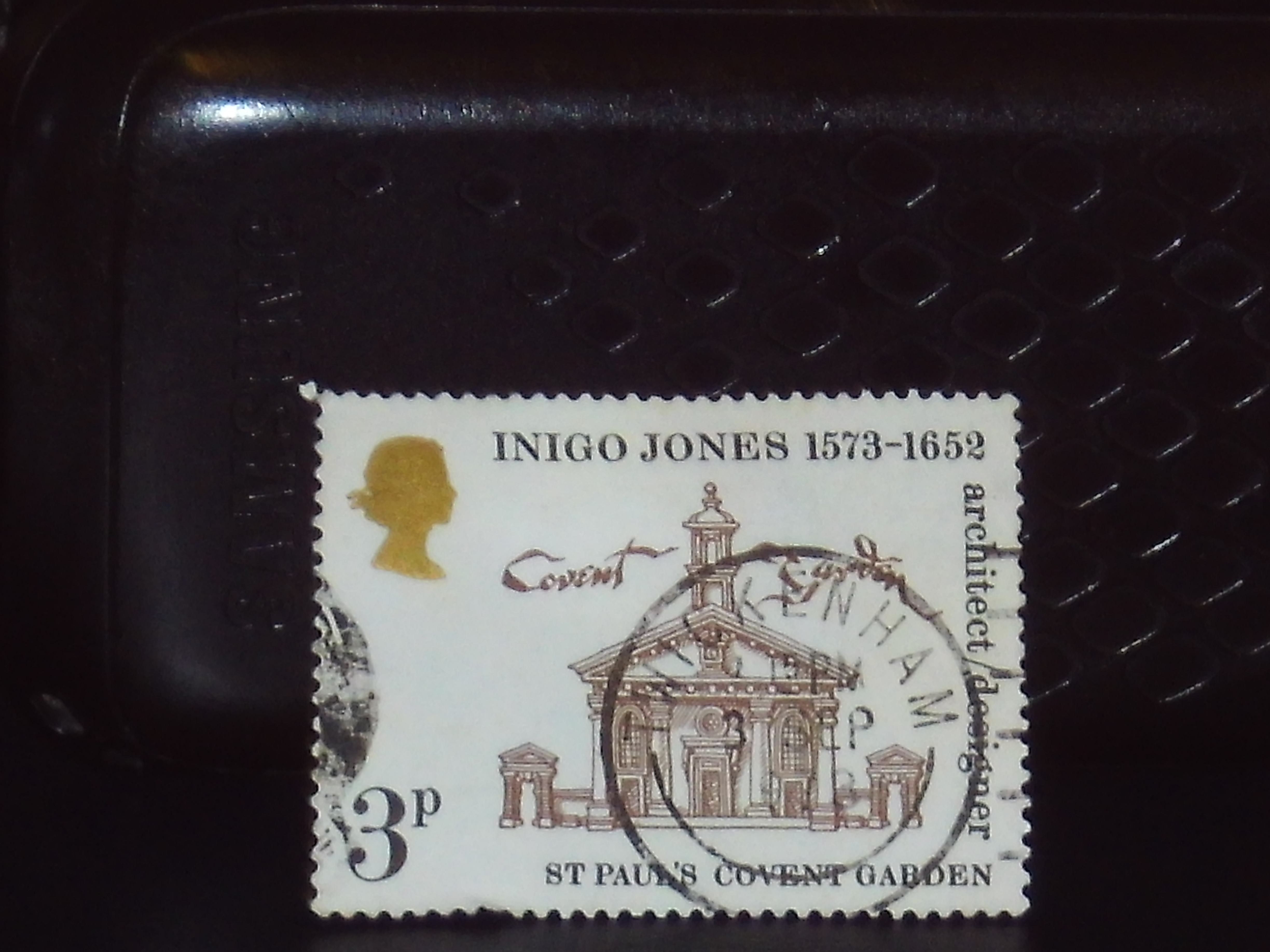 Welcome readers to today's offering from The Philatelist. So slip on your smoking jacket, fill your pipe, take your first sip of your adult beverage, and sit back in your most comfortable chair. We have an interesting story to tell about a man you may not remember, but perhaps he is worth remembering.
At first glance, today's stamp may look American, perhaps from the Bicentennial year. It is not.The gold profile in the top corner is a giveaway that the stamp is British. The shape of the stamp is also a standard shape common to British stamps from the late 60s forward.
The stamp today is issue A248, a 3 penny stamp issued on August 15, 1973 to commemorate the 400th anniversary of the birth of English architect Inigo Jones.The stamp is part of a four stamp issue that depicts various aspects of Mr. Jones career. According to the Scott catalog, the stamp is valued at 25 cents in its cancelled state.
Inigo Jones is an interesting figure in the history of architecture and other things. What he achieved and how he achieved them are great lessons on how luck, contacts, and talent can yield lasting, great things. Inigo Jones was born in London in 1573 and was of Welch  ancestry. He was not noble by birth, but my much good fortune was able to attract the patronage of several nobleman that allowed him to develop his talent. The Earl of Pembroke sent him to Italy to study drawing. This allowed Inigo to absorb the classic styles of Italy including the architecture of Vituvious. He then went to Denmark to work on the palaces of King Christian. The ending of the Middle Ages was allowing for more travel and soon Inigo was back in England ready to bring a new, if historically referenced style to his homeland.
Inigo did not go directly in to architecture. With the patronage of Queen Anne, he went to work on the stage. Not as an actor, but using his architectural drafting skills to pioneer the use of masks and moveable scenery on the stage. Many of his drawings from this period of his career still exist. One of the other stamps in Great Britain's 1973 Inigo Jones issue celebrates his work on the staging of plays.
Architecture comes back into the picture as King James becomes less frugal than Queen Elizabeth I had been. In 1613, Inigo Jones was named the Surveyor of Kings Works. This opened many opportunities to put his style vision into practice. Among these was the structure on today's featured stamp, St Paul's Church and Convent Garden. The Earl of Bedford wanted to create a square in London in the style of an Italian piazza. Inigo Jones was just the man to see this vision realized.
There is always tension between patron and artisan. The Earl of Bedford saw the need for a church in the square but wanted to be economical. He instructed Inigo to model the church on a barn. Instead Inigo stuck to his vision of a Tuscan style temple, as Vituvious would have done. The"best barn in England" still stands today.
Inigo's career later came to a standstill with the English civil war of 1642. This makes the vital point that talent is not enough for success. The conditions have to be right for talent to be able to flower.
Well, my drink is empty so it is time to open up the conversation in the below comment section. Come again tomorrow for another story that can be learned from stamp collecting.