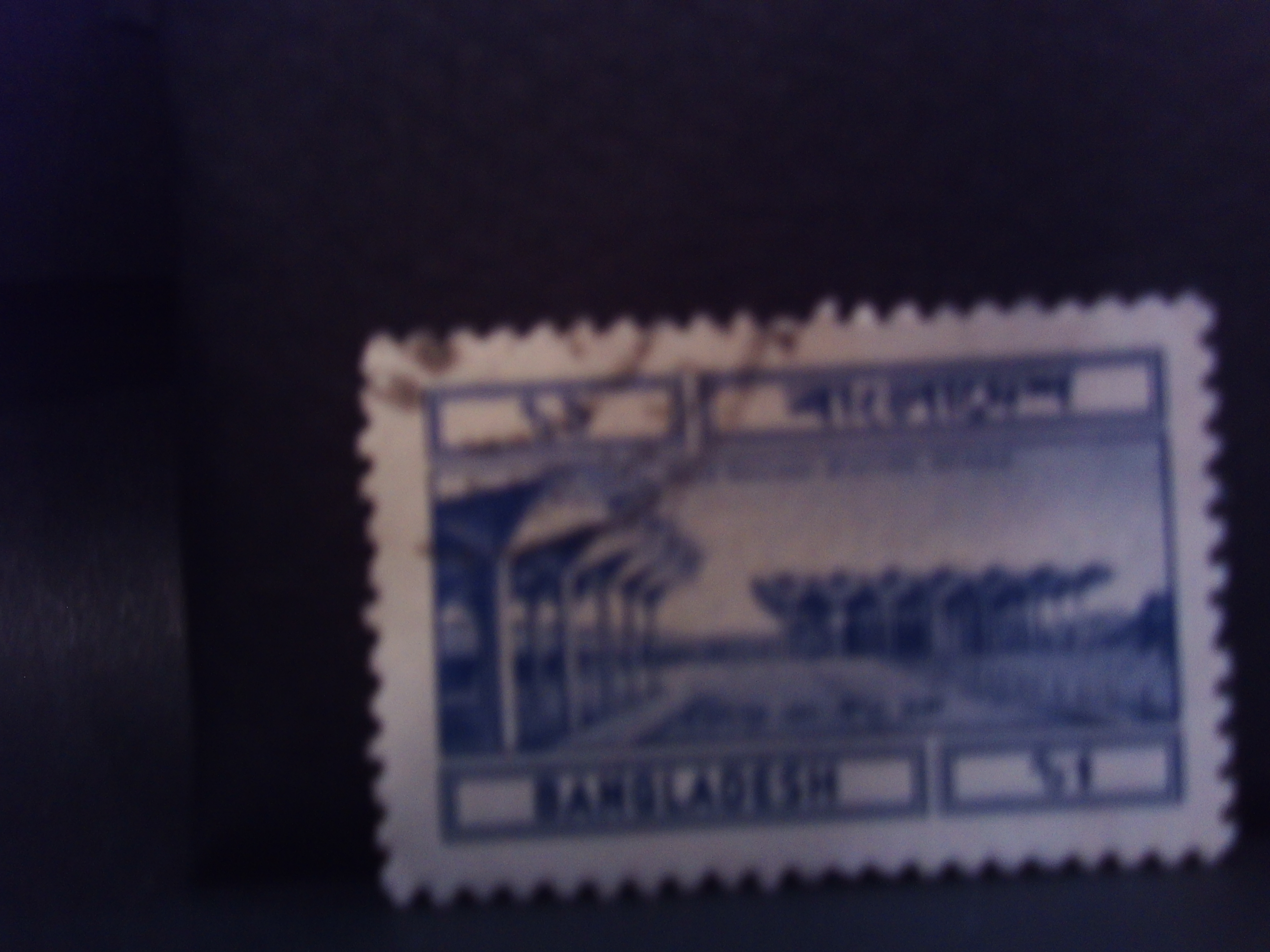 Welcome readers to today's offering from The Philatelist. So slip on your smoking jacket, fill your pipe, take your first sip of your adult beverage, and sit back in your most comfortable chair. We have an interesting story of a partition, a blooding split, a famine and yet an attractive, unique, necessary  piece of infrastructure is constructed.
The stamp today is Bangladeshi, but looks post independence Indian. That India had a big influence on Bangladesh is obvious, even in the stamps.
The issue today is issue A70, a 1 Taka Bangladeshi stamp issued on December 21st, 1983. The stamp displays the Kamalapur Train Station in Dacca. It is part of a 10 stamp issue depicting various architecture around Bangladesh. According to the Scott catalog, it is worth 40 cents cancelled.
As the British faded from India, the decision was taken to partition the land area. This was a controversial decision at the time and quite the bloody mess as people suddenly found themselves on the wrong side of a line. Something like 14 million people were displaced by bloody and shameful ethnic cleansing. While none of the sides are blameless, the British drew the line. The man who drew the line refused payment for his work after seeing the trouble that boiled over after. It is worth noting though that there are today many Muslims in India, but virtually no Hindus in Pakistan. Make of that fact what you will.
A Eastern portion of Bengal elected to join with Muslim Pakistan. They were widely separated geographically, but also racially. The East Pakistan people were Bengali with a different language and ethnicity. They soon felt like second class citizens and in 1971, with Indian help had a successful war of independence from Pakistan.
Already with partition, the East Pakistan city of Dacca became much more important as an administrative and economic center. One problem with this was that the train did not go there. So by the early 60s while under the Pakistanis, an extention of the train line was begun. In Dacca, a local university of engineering and technology had started a school of architechture and brought in 5 American instructors. Among them was Robert Boughey. Mr. Boughey was selected to do the railway station in what everyone understood was going to be a major transportation hub in an important world city. The design was for a large station with a mid century modern look that included a roof that resembled a mosaic of lotus blossom shaped umbrellas. The station opened with much fanfare in 1969, two years before independence. Mr. Boughey is still with us and went on to design several other important buildings in Dacca and also in Bangkok. The Kamalapur train station is still in use today.
Bangladesh is a growing populous country today with a large textile industry and many workers around the world. It maintains good relations with virtually all the world' s nations except Pakistan.
Well, my drink is empty, and so it is time to open up the conversation in the below comment section. Have any of our readers traveled through the Kamalapur  train station? Come again tomorrow for another story that can be learned from stamp collecting.