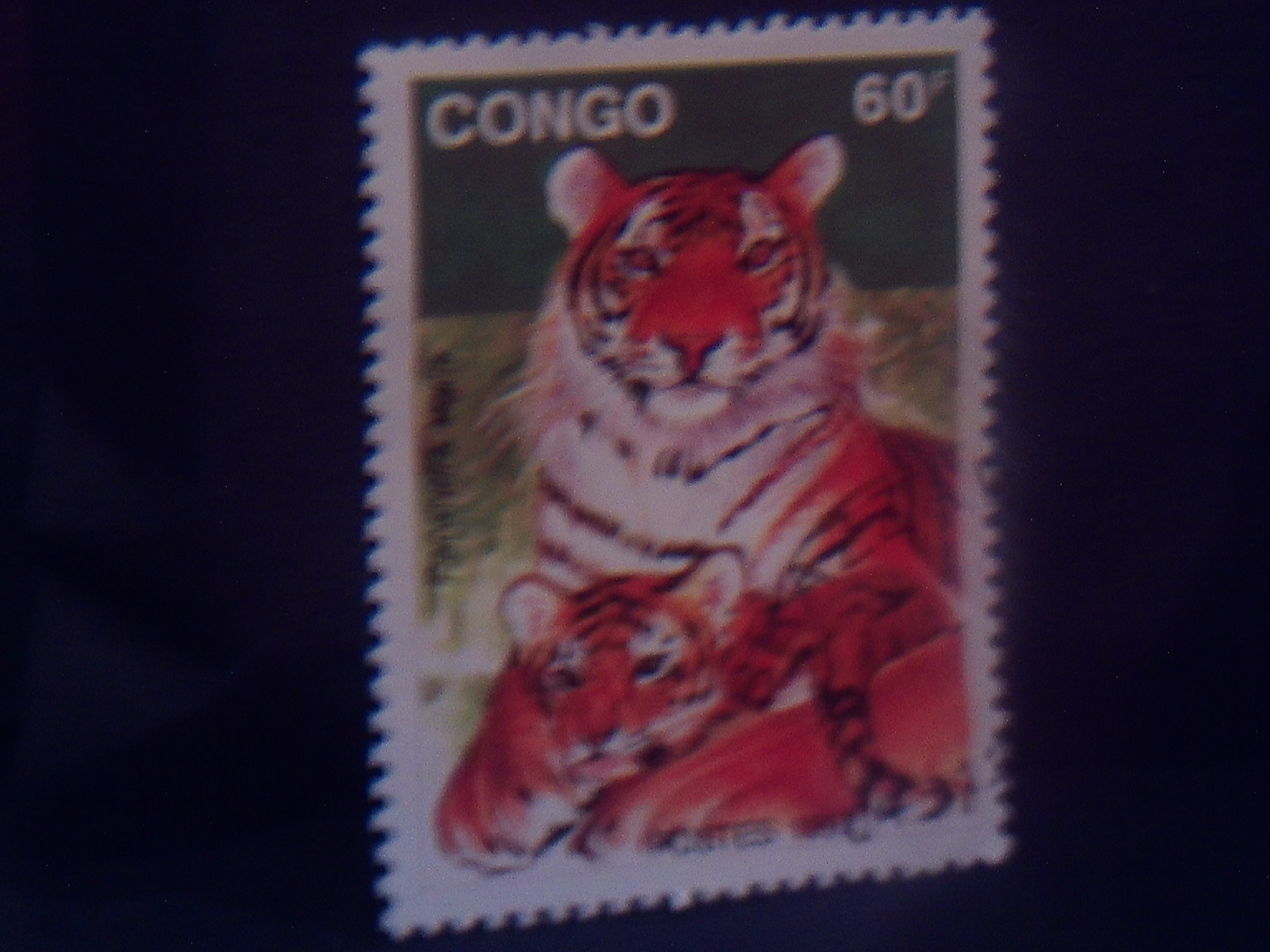 Welcome readers to todays offering from The Philatelist. So slip on your smoking jacket, fill your pipe, take your first sip of your adult beverage, and sit back in your most comfortable chair. We have an interesting story to tell of when the initial optimism of independence seeps away and you are left selling pretty pictures of cats from another continent.
The stamp today is quite pretty. It is labeled Congo. That seems straight forward but there are two nations named Congo and I initially guessed wrong which it was because it lacked the populaire republic that usually identified the former French, communist part. Belgium Congo called itself Zaire in the 70s-90s and then reverted to Congo. Stamp issues are getting far between in Africa these days but the Scott catalog will continue the stamp issues under Zaire until they have more clarity. This may be short sighted as stamp collectors may be more excited by the idea or researching their way through confusion. This stamp is from Congo,the former French Congo.
The stamp today is issue A319, a 60 franc stamp issued by Congo on November 21, 1992. It depicts a tiger. It was part of a four stamp issue of wild cats that could also be had in the form of a souvenir sheet. The Scott catalog lists it's value at 60 cents whether it is mint or used.
The former French Congo has had a somewhat troubled history since independence. The first President was a defrocked former priest who had four official wives and was promoted as a mystic comparable to Jesus Christ. It was said that he could bathe in the river clothed and God would see that his clothes stayed dry. What he proved unable to do was maintain good relations with France or another country so to get an important hydroelectric project financed. He was deposed and France refused to take him because Mrs. de Gaulle was incensed by his lifestyle, she was a devout Catholic. The country was then ruled by Presidents for life that came from the military and declared Congo a peoples republic. They ruled still has cleptocrats but perhaps thought they could get aid from the Eastern Bloc. The Mystic priest former president wrote a book from exile in Spain titled, "I blame China!" Well okay then.
There is some oil that was developed by the French and Americans along the way and some diamonds that are smuggled out of the country as blood diamonds. The country did have a unsuccessful fling with democracy in the nineties when populaire republic was removed from the stamps. The status quo was returned when Angola invaded in 1997 and returned President Sassou to power. President Sassou still rules but fear not, his son is a top executive in the oil company and doesn't feel that his name should disqualify him from office. So there is that to look forward to.
The tiger does not exist in Africa. It is an Asian animal and most of the examples still in the wild exist in India. The tiger is considered threatened but many of the nations that have them are doing more to protect them.
So what is it doing on a stamp from the Congo. That is a hard question. The stamps from Congo that year included a stamp with Bo Jackson, the American baseball player, and a stamp with an antique Aston Martin automobile. Nothing with the sights or personalities of the Congo. Just to milk a few francs from specialized stamp collectors.
Well my drink is empty and so it is time to open up the conversation in the below comment section. I notice that this stamp is more valuable than many stamps I have written about with more historic implications. Are the specialists really so much of what is left of our hobby? Come again tomorrow for another story that can be learned from stamp collecting.