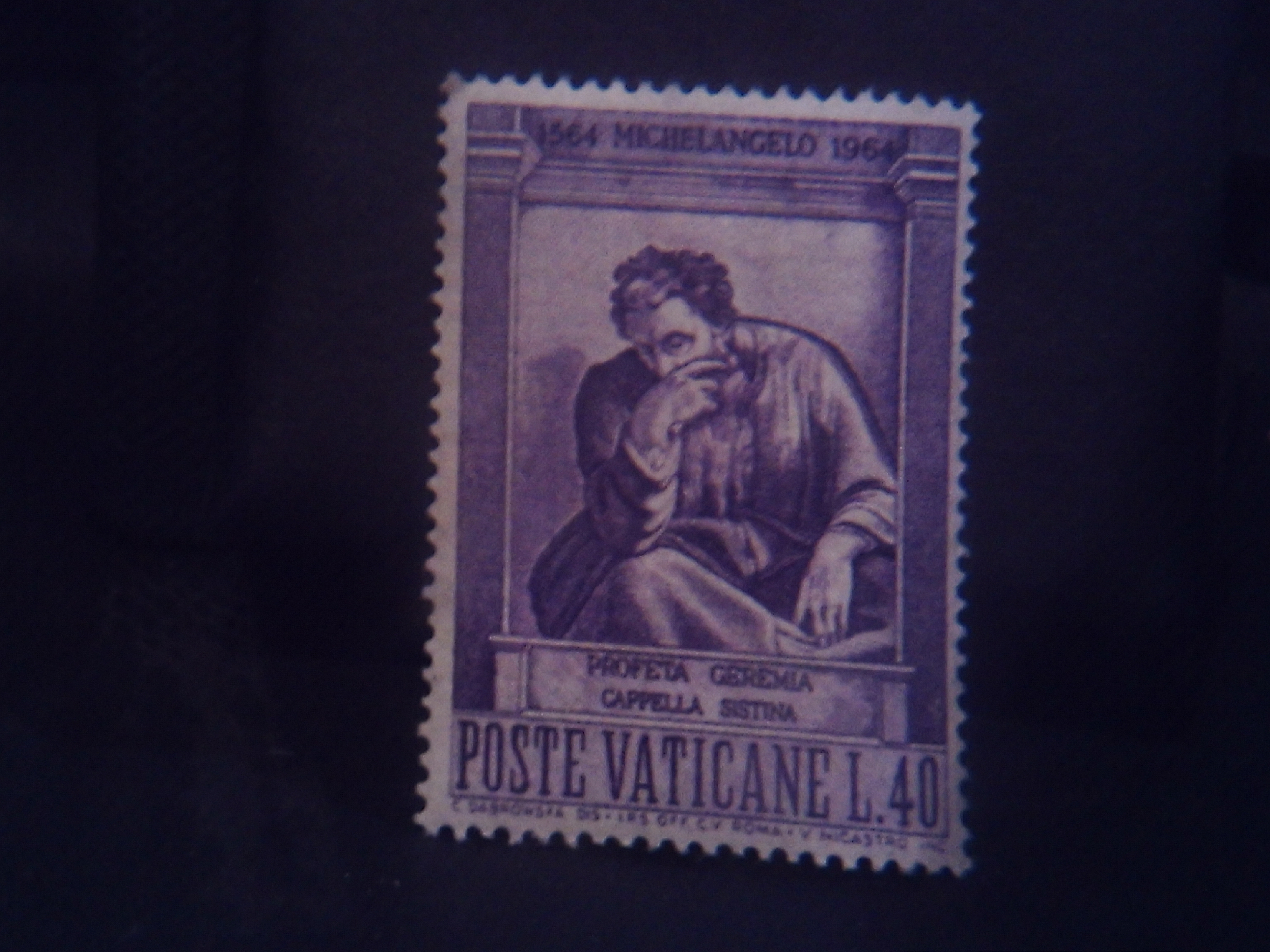 Today we have a story of how a church used great artists to tell its prophetic stories and in this case jeremiads. So slip on your smoking jacket, fill your pipe, take your first sip of your adult beverage, and  sit back in your most comfortable chair. Enjoy todays offering from The Philatelist.
What can you say about this stamp aesthetically. The Catholic Church had the benefit of some of the greatest artists in history to help them illustrate their Holy message. The image on the stamp today is the Prophet Jeremiah by Michelangelo and taken from the ceiling of the Sistine Chapel. The printing job on the stamp is also quite good. This means that in no time you will want to learn more about Jeremiah. To think of how many people through the centuries have come across Michelangelo's work and been inspired to learn the story of Jeremiah is mind blowing. Truly God's hand at work.
The stamp today is issue A121, a 40 lira stamp issued by Vatican City on June 16th, 1964. It shows the Prophet Jeremiah as painted by Michelangelo on the ceiling of the Sistine Chapel. It was part of a 5 stamp issue in various denominations that showed the Sistine Chapel  work of Michelangelo on the 400th anniversary of his death. According to the Scott catalog, the stamp is worth 25 cents. This is true whether the stamp is mint or used or which stamp of the set you have. 25 cents seems to be the minimum catalog value of a stamp. This proves that value does not equate to the beauty or history contained within. By these measures, the stamp is worth much more.
Jeremiah lived in Judea around 600 years BC. It was a time when the Kingdom was corrupt and rife with the worship of false Gods. Jeremiah prophesized that the wickedness would lead to the Kingdom being conquered and sacked by the Babylonians. Most other spiritual leaders at the time were predicting a peaceful future. Naturally Jeremiah's message was not well received and people around the King had him thrown in a cistern and left for dead. He was saved by a passerby but then was imprisoned. His prophecy then came to pass and Babylon conquered Judea and freed Jeremiah. He then wrote out his prophesies in the Biblical books Jerimiah, Kings, and Lamentations.
Jeremiah is remembered as a Jewish prophet. He is also remembered by Christians as seeing the need for a new covenant with God. His stories also have a place in Islamic History. His lamentations also lead directly to the English and French word jeremiad, which means a cautionary or angry harangue.
The Sistine Chapel ceiling was painted by Michelangelo around 1510 as a result of a Papal commission. It is considered a milestone in High Renaissance art. A always lamenting Jeremiah has also been imagined by other great artists including Rembrandt.
Well my drink is empty and so I will open up the conversation in the below comment section. Angry jeremiads that everything is going to hell and the end is near is as common today as any other time. If they are as correct as Jeremiah turned out, at least we can hope the some great future art will be inspired. Come again tomorrow for another story that can be learned from stamp collecting.