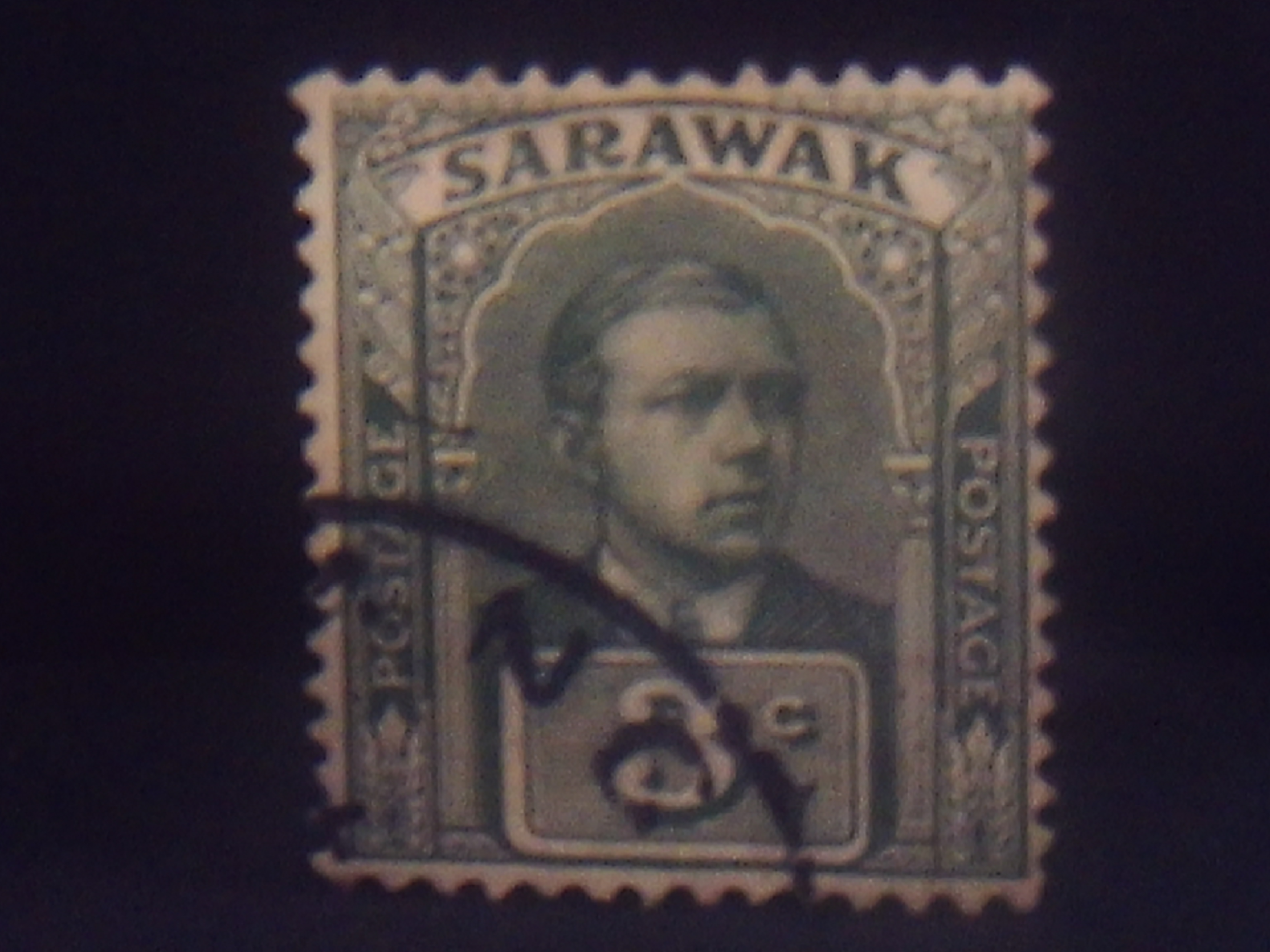 The Sultan of Brunei offers a territory to a British adventurer in perpetuity, until it isn't. So slip on your smoking jacket, fill your pipe, take your first sip of your adult beverage, and sit back in your most comfortable chair. Welcome to todays offering from The Philatelist.
Todays stamp comes from the island of Borneo. The area of Sarawak was ruled by a white rajah, in a system loosely modeled on British India, except with a more prominent local representation. This local representation allows the white rajah to just wear an ordinary business suit on the stamp. He did not have to pretend he was local when he was not as with so many Kings who are really from somewhere else.
The stamp today is issue A17, a 3 cent stamp issued by the Rajah of Sarawak in 1922. The stamp features Rajah Charles Vyner Brooke and is part of a 21 stamp issue in various denominations. According to the Scott Catalog, the stamp is worth $1.40 used. The stamp to look out for in this issue is the 8 cent yellow. It is worth $70 used.
Sarawak, initially just the area around Kuching was awarded to British explorer James Brooke. He had helped the Sultan of Brunei quell a tribal uprising. The area was populated by Muslim Malayan tribes with a minority of ethnic Chinese. Brooke established a Rajah that was independent from Britain. He was succeeded by his nephew and then later by his nephew's son, Charles Vyner Brooke. The rajah was successful in developing the local industry, most particularly oil drilling. He had a local council that advised him and for the most part was a protector of local customs, with the exception of headhunters who were pursued until the practice died out locally.
Charles Vyner Brooke faced a new challenge in the form of Japanese ambitions. He turned over much power to the local council and fled to Australia with a sizable grant from the treasury of Sarawak. He destroyed much of the infrastructure to avoid it falling to the Japanese. At war end, the Australian Army landed and  Brooke was back on his family throne. He lacked the funds to rebuild Sarawak so proposed a controversial idea of becoming a British Crown Colony. This was especially controversial because the Rajah was by then mainly ceremonial and the locals had much self rule.
This was also a problem regarding the Rajah succession. Charles had named his nephew Anthony Rajah Muda, prospective. This angered his wife Sylvia of Sarawak who wanted to see the title go to her daughter. This was not allowed by Islamic Law or Charles Brooke's will but her life saw many schemes to dispute Anthony's claim to the thrown by pointing out he married a commoner and was disreputable. Anthony in turn opposed Sarawak becoming a crown colony. After the Crown Colony came to pass Anthony Brooke was banned from Sarawak by the colonial administration. A crown governor was assassinated and there were rumors that Anthony was in on the plot. The colony in the 60s was then seceded to a newly independent Malaysia. Malaysia allowed Anthony Brooke to return to Sarawak having renounced his title. Upon his death in 2012, the Malaysian British High Commissioner had released British documents that cleared Anthony Brooke of the assassination. It was the Indonesians that had done it. Late in her life in 1969, Charles Vyner Brooke's widow, Sylvia of Sarawak released a book titled "Queen of the Headhunters."
Well my drink is empty so I will poor another to toast the Brooke family, The White Rajahs. Come again tomorrow for another story that can be learned from stamp collecting.