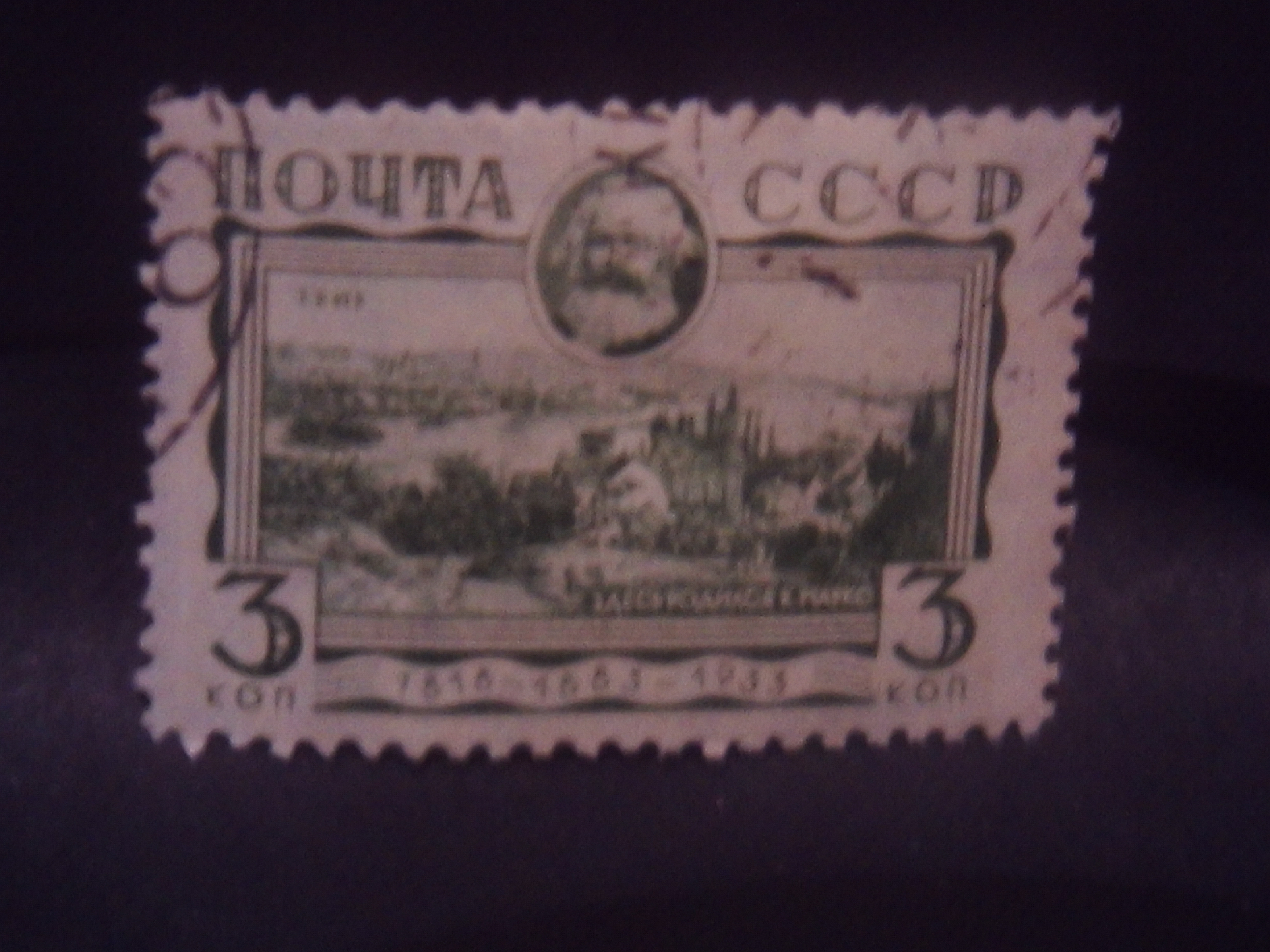 Marx is the father of communism. Russia in 1932 was working to turn communism into a working system for Russians. So slip on your smoking jacket, fill your pipe, take your fist sip of your adult beverage, and sit back in your most comfortable chair. Welcome to todays offering from The Philatelist.
Todays stamp displays Trier, Karl Marx's birthplace in Germany. It is a beautiful ancient city with ruins that go back to Roman times and a large Lutheran Cathedral. It is perhaps for the best that the printing on this stamp is so bad. If Trier's beauty and prosperity had been better displayed the point of the stamp might have been obscured. Instead of hope for what Marx's ideas might do for the average Russian, they may wonder what Trier is doing right that the Soviet city of Stalino is doing wrong.
The stamp today is issue A141, a three Kopek stamp issued by the Soviet Union in March 1933. It was part of a 3 stamp issue marking the 50th anniversary of the death of Karl Marx. According to the Scott catalog, the stamp is worth $1.80 used. A mint copy of the 35 Kopek stamp in the issue is worth $67.50 mint.
Marx was born into a well off Jewish family. They were not religious although they converted officially to Lutheranism to avoid anti Semitic rules. His father was a lawyer and owned an interest in several vineyards. His mother was from a rich Dutch Jewish family that founded Philips Electronics. Marx was excused from Prussian military service by claiming a weak chest. He spent a great period of time in higher education pursuing the study of law and philosophy. He married a baroness.
The Soviet Union had been a Communist nation for 15 years. There had been a big push to industrialize and with that a large relocation to the cities. The forced collectivization of the farm land had not gone well and left the cities short of food. Both rural and urban areas were full of strife and shortages. The Soviet leader Stalin was ruthless in trying to bring order. He was also demanding much authority from the Communist Party to stamp out doctrinaire Marxists who might have other ideas as to what needed to be done.
Given this, it seems to be personally revering Marx as a man with a well off non Russian background is strange. Communism is supposed to be about building up the working man and through him building a nation. Thus his ideas should be promoted with special reference to what they can achieve for the average citizen.
That is not what this stamp does. It celebrates the man Karl Marx, who was without a nation or a church. He survived on the patronage of rich friends and family. His ideas were just untried theories. Nothing that will get the Soviet Union through the crisis it faced. There are a lot of stamps like this from Communist countries. Marx thought each country should have a separate communist party. He would probably also agree that their heroes should be local.
Well my drink is empty so I will open up the conversation in the below comment section. Come again tomorrow for another story that can be learned from stamp collecting.