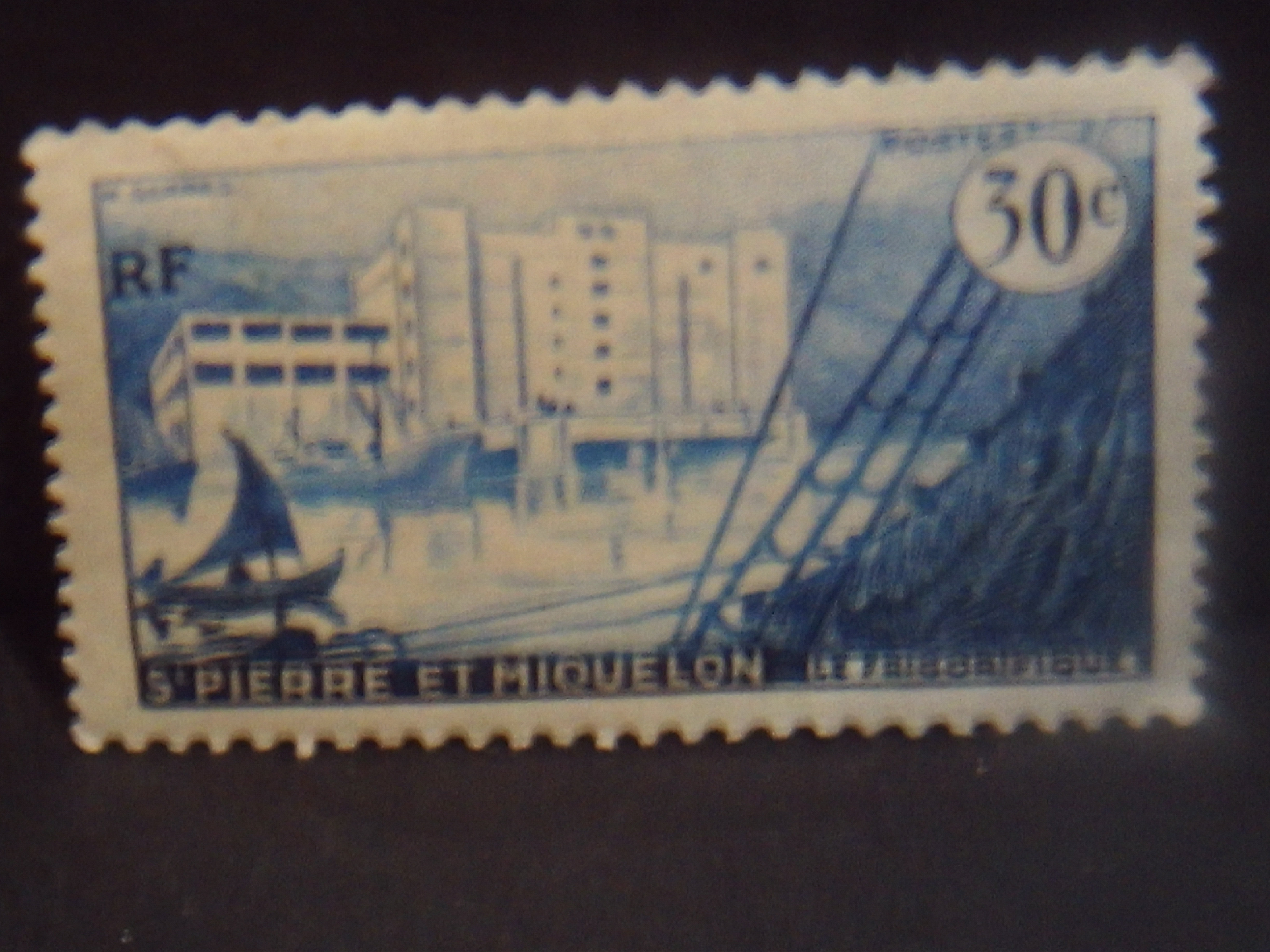 Explorers find an unoccupied group of islands in a rich area for fishing. Sounds promising even potentially lucrative. Or not. So slip on your smoking jacket, fill your pipe, take your first sip of your adult beverage and sit back in your most comfortable chair. Welcome to todays offering from The-Philatelist.
I am a little conflicted aesthetically about this stamp. I like the color palate and engraving that place it unmistakably in the French orbit. On the other hand a fairly ugly fish factory  on a prime piece of coast line seems not one should emphasize. I am going to come down on being in favor since catching fish is or at least was the whole point of the settlement.
Todays stamp is issue A36, a 30 Centimes stamps issued by the French overseas Collectivity of Saint Pierre and Miquelon on October 22, 1956. It displays a fish freezing plant and was part of a four stamp issue in various denominations. According to the Scott catalog, the stamp is worth 95 cents used.
French and British settlement occurred in different periods up to the Napoleonic wars after which the French claim was recognized. The islands sit over 2000 miles from France but only 16 miles from Newfoundland. It was a tiny settlement that eked out a meager existence  from catching fish and occasionally alcohol and tobacco smuggling. During World War II, the islands went with Axis ally Vichy France. It was the closest Axis encroachment of North America. Fearing an Axis forward base, Canada readied a takeover. This was complicated by Quebecois concerns, see http://the-philatelist.com/2017/12/27/canada-supports-the-war-except-quebec-and-churchill-just-ignores/ , and neutral USA's Monroe Doctrine. While Canada dithered, the Free French under De Gaulle sent a few ships that turned the islands to the Allies, much to the annoyance of Canada and England.
Even with the fishing, the islands require a great deal of subsidies from France to be viable economically. That is how the islands got the reputation of being the worlds most expensive Frenchmen. It also explains why the islands chose to stay with France when independence was offered in the 60s.
The economic situation as worsened with the banning of fishing. Canada from Ottawa and France from Paris agreed to ban deep sea fishing in both Newfoundland and Saint Pierre and Miquelon. The fish factory is now derelict, see below. A new round of French investment is going on to promote the still allowed tourism.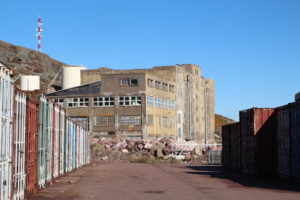 Well my drink is empty and so I will pour another to toast the hardy if expensive French of Saint Pierre and Miquelon. I have had the good fortune of visiting Newfoundland and I know the weather extremes in that part of the world. Come again tomorrow for another story that can be learned from stamp collecting.