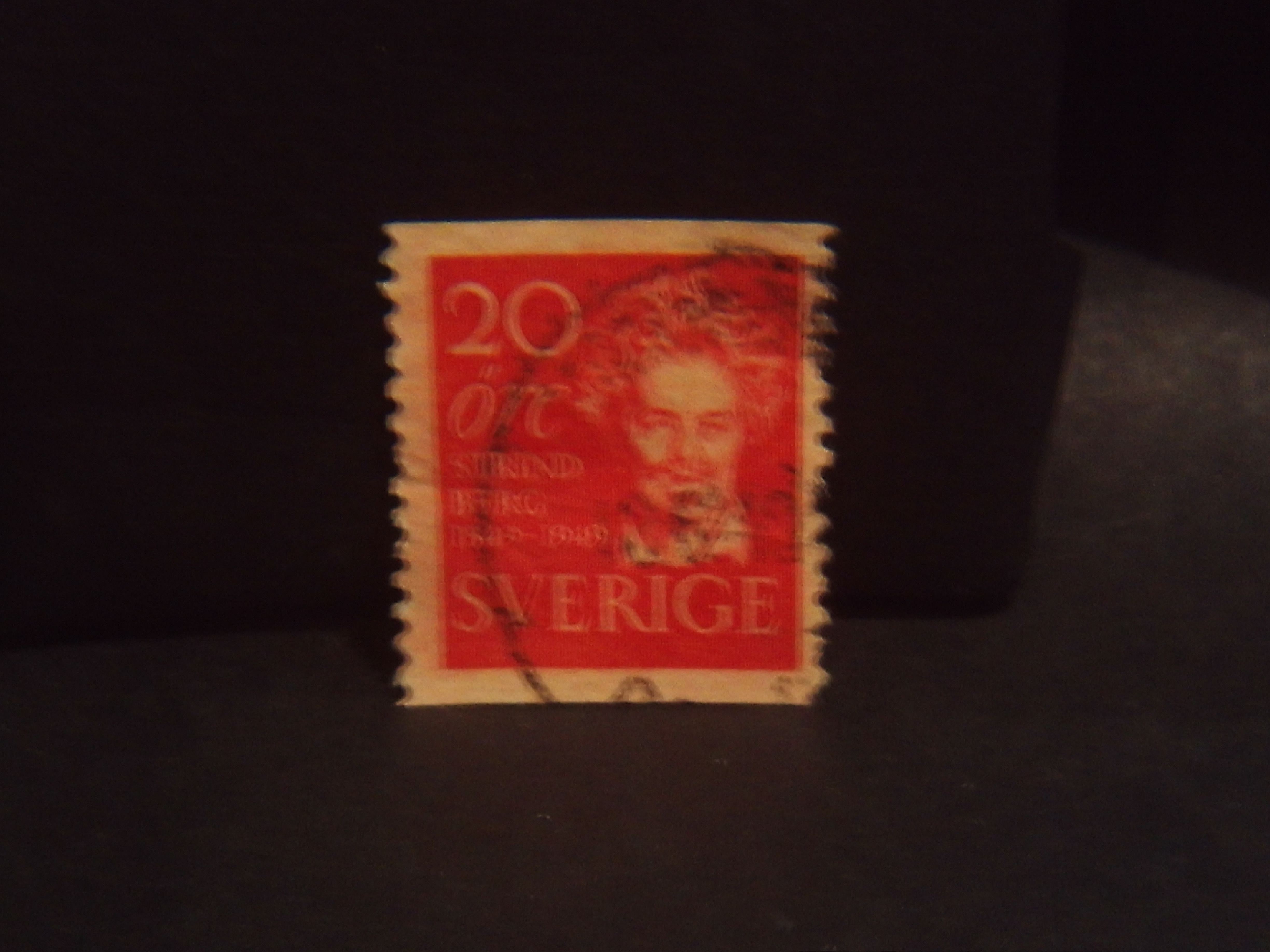 This one is going to be a difficult one. Strindberg is well remembered in Sweden, but his life and work shows far more hypocrisy than what his works tend to lampoon. So slip on your smoking jacket, fill your pipe, take your first sip of your adult beverage, and sit back in your most comfortable chair. Welcome to todays offering from The Philatelist.
The aesthetics of todays stamp are terrible. The printing is bad and the paper is cheap. Sweden prospered in the years of this stamp issue so one can only deduce that postage stamp issuance was just not a priority.
Todays stamp is issue A93, a 20 Ore stamp issued by the kingdom of Sweden on January 22, 1949. It was part of a 4 stamp issue in various denominations celebrating the century of the birth of August Strindberg, the playwright and author. According to the Scott catalog, the stamp is worth 25 cents used.
August Strindberg was born the son of a shipping executive and his wife who had been a maid before marriage. He resented his mother for her religious convictions and stupidity. He resented his father for not passing enough money to him, I am sure that also convinced Strindberg of his father's stupidity. That his mother had been a maid allowed Strindberg to see himself as a working class invader in the world of the aristocrat. The fact that his father spent enough on his private education and university to give Strindberg entry into the aristocratic world where there are plays and literature seems not to have made any impression on him.
After university, Strindberg saw a play of his staged at the Royal Theatre in Stockholm while still in his early 20s. The King of Sweden thought enough of the young playwright to give him a monetary stipend. Strindberg did not like his play. His elaborate and expensive education had seen him exposed to the more modern form of play called naturalism that was the idea of the Frenchman Emile Zola. It sought more reality  in language and less plot and more characterization and politics. Strindberg sought to emulate this supposed ideal.
The first thing though was his affair with a married baroness. He eventually married her when she was 6 months pregnant. The affair and marriage led to his biggest success in a novel named "The Red Room" and a play named "Miss Julie". Both were quite popular and satire the lives of the female aristocrat from the point of view of a seducing servant.
Strindberg thinking himself a nihilist wanted to go much further. He believed society was unreformable and needed to be burned down. To put him in the right frame of mind there were all the usual tropes. Dabbling in the occult. travel, psychedelic drug use, heavy alcohol consumption. repeated divorce and marrying ever younger wives. Sounds more like a narcissist. oh well….
As Strindberg aged he sought to become the national poet of Sweden and thought a return to his routes in historical works was the way to get there. The honor was not forthcoming and these works were not well received. What was working was many of his middle period works were redone and much seen worldwide giving him much fame. Perhaps in the way that Paul McCartney and Elton John perform their work from 40-50 years ago to much acclaim. The new stuff, not so much.
I have been somewhat harsh on Strindberg who was thought to be influential. Perhaps he was but personally I resent people spitting at a system they are living well off of. Feel free to correct me with facts in the below comment section. Come again tomorrow for another story that can be learned from stamp collecting.