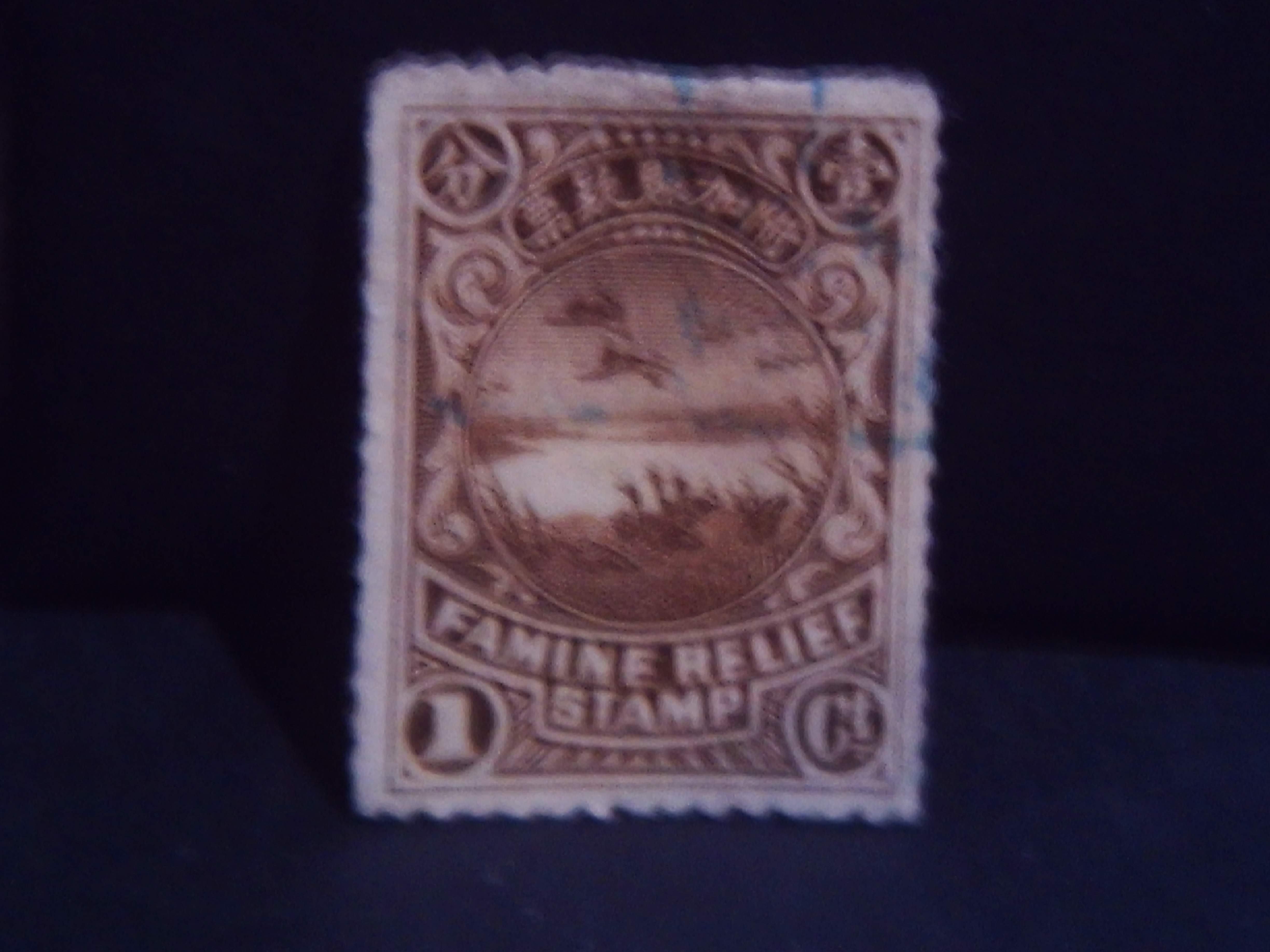 If there was a benefit to China opening up to western countries, it was when there was a crisis, help would come from far away. Probably too late and with a lot of hucksters involved. So slip on your smoking jacket, fill your pipe, take your first sip of your adult beverage and sit back in your most comfortable chair. Welcome to todays offering from The Philatelist.
Todays stamp is not useful for postage. The idea was that people would buy the stamp, mostly in the USA, to decorate their letters. The proceeds would go to famine relief in China. It was not to be used for postage either in the USA nor China.
Since todays stamp is not an official issue of a government, it is not in any catalog. I did find one identical to mine on Ebay for $5.00. This stamp was issued after the famine by the China International Famine Relief Commission.
The famine of 1920 centered in Northern China in the area south of Beijing. The previous year had been very dry and so the harvest was small. The area had been heavily denuded of trees and it is thought that that contributed to the drought as tree roots tend to hold moisture longer. The area had been hit by a much deadlier famine in 1879. The famine in 1920 was believed to have killed 500,000 people.
China was in it's warlord period. That does not mean the government did not do things to help. The tax on shipping grain between provinces was dispensed with in order that grain could pass more easily and cheaply from less affected areas. The distilling of grains into alcohol was also banned in Beijing to lessen this demand for grain. 1921 was a wetter year and so the harvest was better and that ended the famine.
During the famine, a different aid agency sold a 3 cent stamp raising over 4 million dollars. The three cents was supposed to equate to feeding one Chinese person for one day. This group wrapped up  with the 1921 harvest that was the end of the famine.
Todays stamp was the issue of a later group, the China International Famine Relief Organization. It issued relief stamps in several denominations from 1923-1929, both in the USA and China. They usually sold in the period of Christmas through to Chinese New Year. These were much less successful in raising money. The famine being over the overage was spent on making the area less drought prone. Most years however the stamp sales did not cover expenses.
Well my drink is empty and I will pour another to toast those who bought these stamps in order to help people they didn't know so far away.  Come again tomorrow for another story that can be learned from stamp collecting.