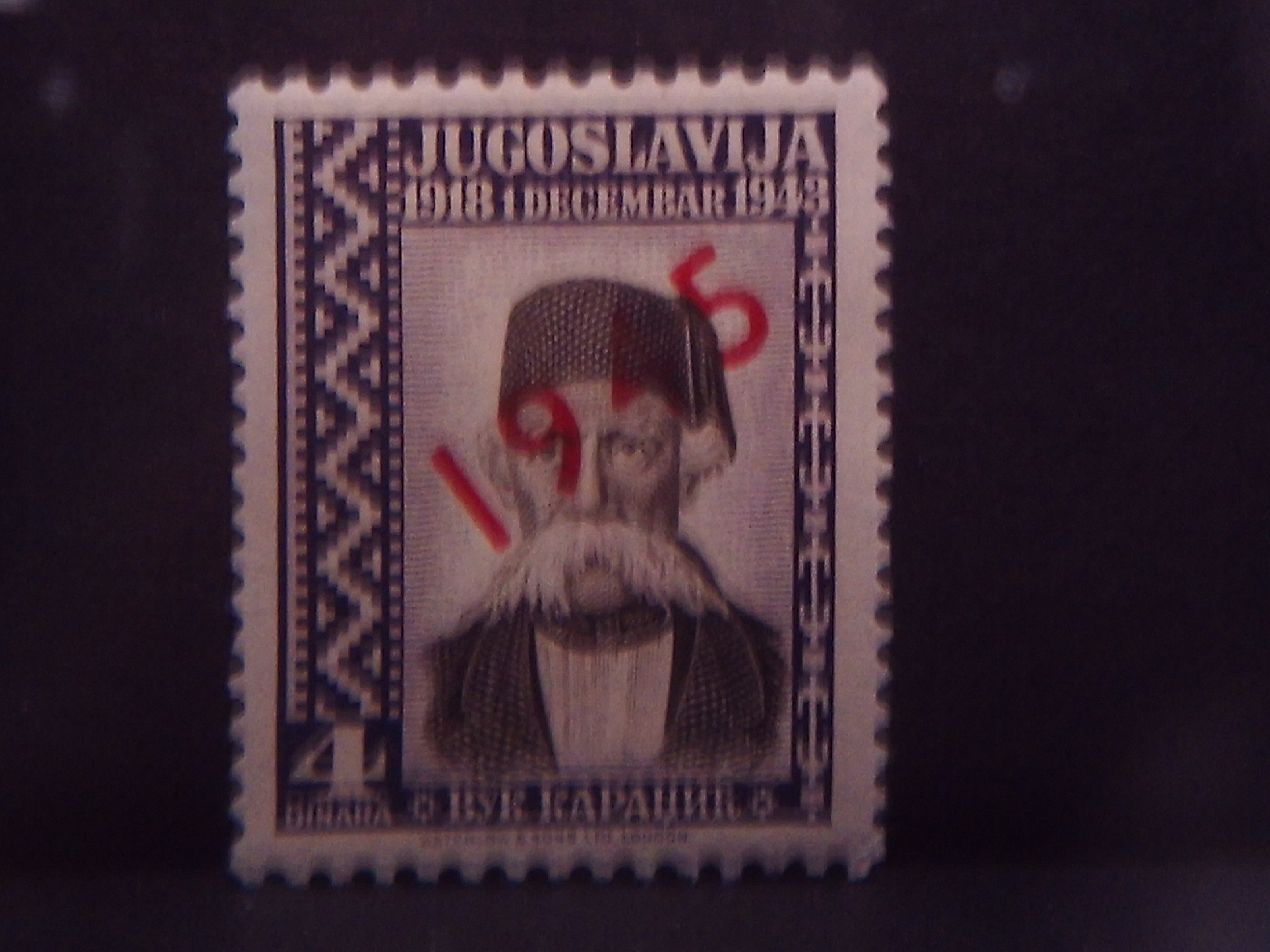 Midway through World War II, the Allies shifted their support from the former Royal government of Yugoslavia to the Socialist force that was having such success resisting the German occupation. This left the Royals in exile out in the cold, and their stamp offerings. So slip on your smoking jacket, fill your pipe, take your first sip of your adult beverage, and sit back in your most comfortable chair. Welcome to todays offering from The Philatelist.
Exile agreed with the stamp issues. The Royal government in exile was out of London. Therefore the printing of their stamps moved to London, which had simply better printers. A while back we did another questionable stamp issue printed in Vienna on behalf Indonesian independence fighters. See http://the-philatelist.com/2017/11/24/well-we-think-we-are-independant-we-have-a-constitution-a-flag-and-austrian-stamps/. In both cases, the iffy stamps are of far higher quality that what was printed locally in less trying times.
Todays stamp is considered an invalid overprint of issue 1K8 that was issued by the Royal government of Yugoslavia in exile in London. The unoverstamped version is considered legitimate even though they were not sold or used in Yugoslavia at all. The postal system in Yugoslavia was using stamps issued by their German occupiers and their collaborators. What makes the exile stamps legitimate was that they were valid for postage on Yugoslav Navy ships at sea. One can only imagine the infinitesimal number of the stamps used that way but that makes it a recognized stamp. With the change of affiliation of the Allies the recognized socialist government of Tito came into possession of the stock of already printed stamps. They overprinted the 1945 you see on my copy and eventually sold off the stock to stamp dealers in 1950. They were not valid for postage in Yugoslavia at all and so go unrecognized by the catalogs today. According to the Scott catalog, the 1K8 issue is worth $1.60 mint. My stamp, who knows? but less…
King Peter II briefly took the thrown at age 17 in 1941 after his father was forced to abdicate. He had signed an unacceptable alliance with Germany. The Germans invaded a few weeks later and the government offered little resistance and went into exile in London. Given his age, Peter was not taken seriously as a leader for Yugoslavia by the allied leaders. There were separate partisan operations actively resisting the Axis in Yugoslavia, a socialist one and a royalist one. The socialist one was much larger and more effective. In fact the Germans had the most trouble in Yugoslavia than in any of the other countries occupied. In many occupied countries the resistance was dominated by the tiny Jewish minority. After the Tehran conference in 1943, Allied help flowed to Tito and his partisans. When Tito cleared the Nazis out, Yugoslavia was quickly declared a People's Republic and the Royals were stripped of their titles, property, and even their citizenship. King Peter refused to abdicate and moved to the USA leaving his son behind in England to be raised by a grandmother. Peter drank himself to death. His son Alexander, was Crown Prince for a few months as a baby in 1945 has now had Serbian citizenship restored and is allowed to reside in the old palace in Belgrade. In 2013, King Peter's remains were returned to Serbia and placed in the Royal Tombs. Alexander still lobbies for his return to the Serbian Throne of his ancestors. Things were great under his great grandfather, so says Alexander…
Todays stamp features Vuk Karadzic, a Serbian linguist from the 19th century. He was born a peasant but was educated and transcribed for the first time Serbian folk songs and poems. There is a rich tradition in Slav countries of the peasant song and poetry recited and sung with great feeling at night around the campfire. The transcription lead to the songs becoming better known around Europe where they were quite a hit. Vuk later worked on reforming Serbian writing to bring it more inline with what was spoken. This lead to increased literacy. He also translated the New Testament into Serbian. Interestingly much of his work was banned in Serbia in his day even though it was not political. It was feared that the songs would stir up patriotic feelings of Serbs at a time when they were still pledged to the Ottoman Empire.
Well my drink is empty and I am faced with another fake stamp. Fake stamps though still have a story to tell. Come again tomorrow for another story that can be learned from stamp collecting.