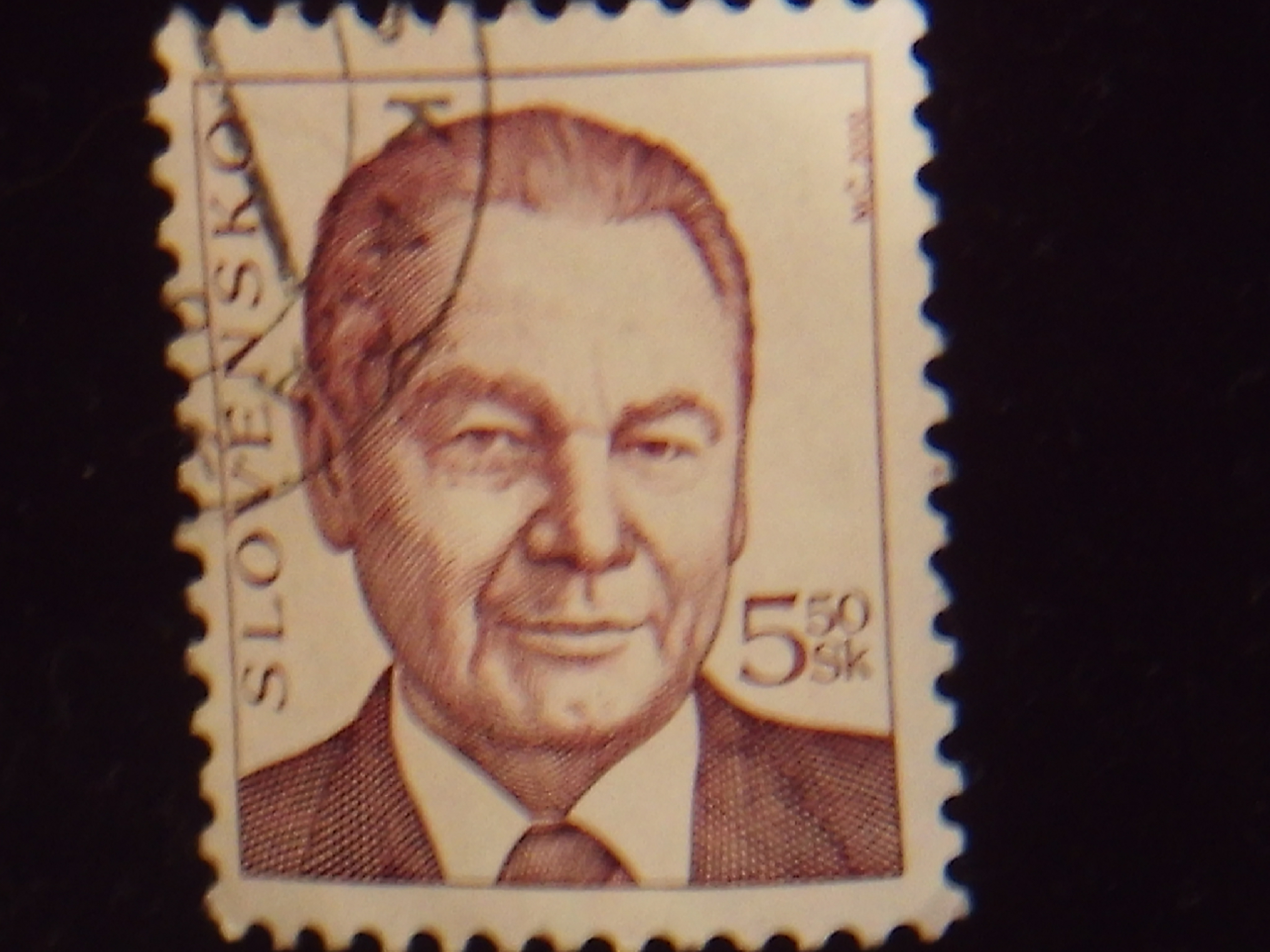 When the old system broke down and even the country split, it is understandable that everyone gets nervous. So when a bland figure from the past offers his services, maybe you give him a try. So slip on your smoking jacket, fill your pipe, take your first sip of your adult beverage, and sit back in your most comfortable chair. Welcome to todays offering from The Philatelist.
You may have to do a double take on this stamp. It really has a strong resemblance to the old Czechoslovakian stamps of the communist era. I doubt Slovakia was doing this consciously, but perhaps it fits with an official from that old regime is returned to power as a compromise leader. This time he would be dealing with the EU instead of COMECON, but I bet that COMECON experience was useful. This fellow even had a German name.
Todays stamp is issue A190, a 5.5 Koruna stamp issued by the independent republic of Slovakia on June 15th, 2000. It was a two stamp issue several years apart honoring Slovak President Rudolf  Shuster. According to the Scott Catalog, the stamp was worth 25 cents used.
Slovakia broke away from Chechia in 1992. The 20th century had seen many border changes And so Slovakia also contained Carpathian German and Hungarian minorities. These ethnic minorities added to the massive number of political parties that formed in Slovakia after independence. In Czechoslovakia remember there was only one party the Communists. Elections work best with a clear majority, and that became difficult with the plethora of parties.
This was handled by coalition governments. There was also the issue of the old Communists wanting to stay in the game. One such fellow was an ethnically Capitanian German ex Communist named Rudolf Shuster. The Carpathian Germans were evacuated by Germany with the approach of the Red Army in 1945 but some returned post war submitting to a Slovakisation process. With the help of an old crony Pavel Rusko, that came to own a TV station, he was able to put together a new left party of civic understanding. The selling off of government assets had not gone well with the stench of corruption and this tainted the Slovak bid to join the EU. Why not add Shuster to put a new, old face on the government to be a point man on EU integration. Shuster got that job done and Slovakia joined the EU in 2004.
By then Rusko had lost interest in Shuster and the party of civic understanding. He formed a new party that more directly featured himself. Rusko was later able to cash out of his media empire with it becoming part of the international operations of AT&T. Shuster ran for reelection in 2004 as an independent but came in fourth. After this he retired from politics. He was a popular figure with the EU, despite just being just a front man. What does it say about the EU about there willingness to deal with front man, and also that when picking a front man both sides look to the old failed Communists?
Well my drink is empty and I will open the conversation in the below comment section. Come again tomorrow for another story that can be learned from stamp collecting.